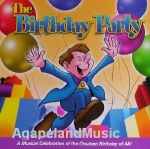 The Birthday Party (Entire CD)
Join Stanley Tutter as he explores the true meaning of Christmas - Jesus' birthday!

SONGS:
Hurry, Hurry
There's A Party
What Can We Give To The King?
Snowflake
Hallelujah, Peace On Earth
Gift Of Love
I Will Shine, I Will Sing
Can't Help Peekin'
Hear The Chimes
It's A Great Day
Ballerina
Sparkle
Rejoice
There's A Party (Reprise)

LYRICS NOT AVAILABLE. (If you would like to submit lyrics for this project, please contact us!)

Selecting the 'Buy' button will take you to 'Alpha Omega Publications' where these songs can be purchased!
(purchase on external site)