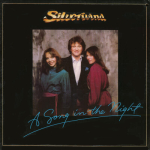 In 1982 Silverwind was comprised of Georgian Banov, Betsy Hernandez and Patty Gramling Forney. This is Silverwind's second release.

Although the Silverwind projects are not children's recordings, we have included them because Betsy wrote the lyrics and Georgian Banov wrote the music for most of the Silverwind material. Frank usually wrote one or two songs on each project, i.e. Forgiven on this album.

Selecting the 'Buy' button will take you to 'iTunes' where these songs can be purchased!



(purchase on external site)